CLC (Foam Concrete) Block Cutting Machine| MasterCut-3 
MasterCut-3 is the latest model of CLC block making machine, designed and manufacturer by THT International. The machine features a bi-directional wire-cutting system that allows you to cut any size of blocks efficiently.
This Foam concrete cutting machine also eliminates the need for heavy & expensive battery moulds, and helps you to greatly reduce labour and production costs.
Built to a very high standard with components from well known brands, MasterCut-3 has been imported to many continents around the world like North & South America, Australia, Africa and the EU ...
With a modern design and many special technical features, MasterCut-3 is the best choice for CLC block manufacturers today.
What set MasterCut apart from other CLC block cutting machines?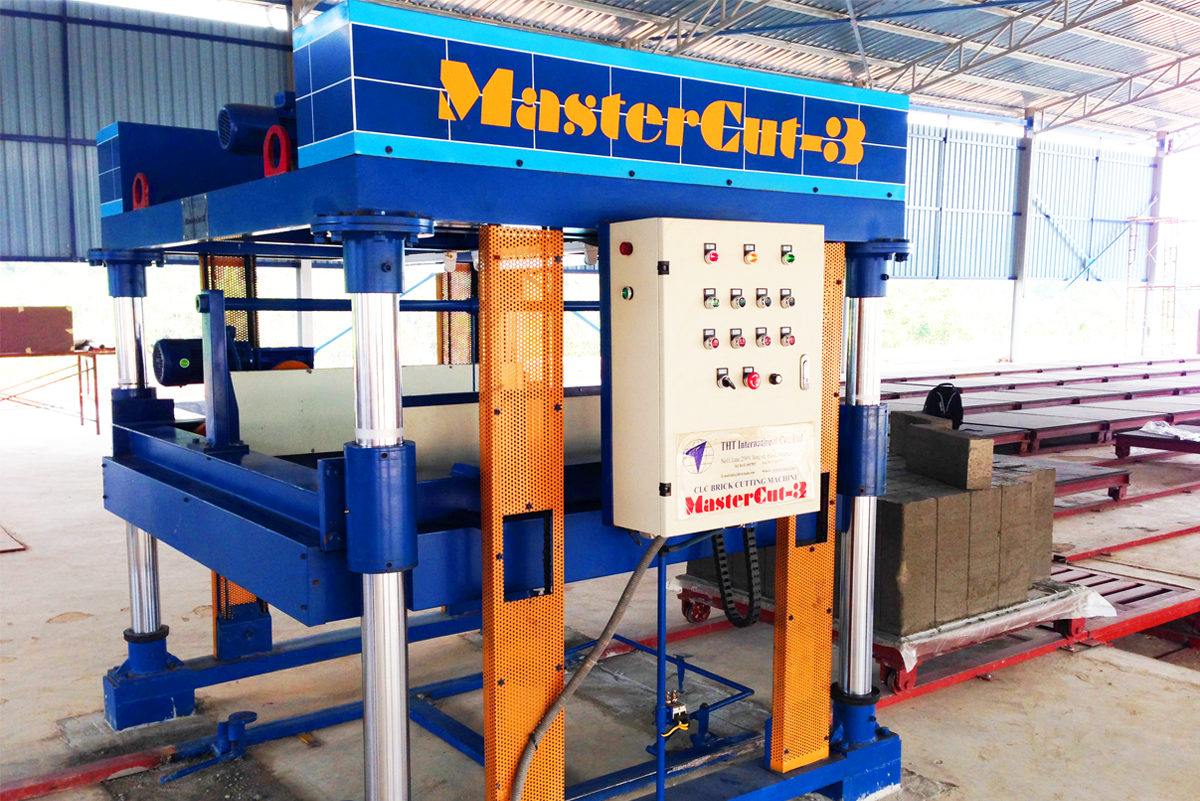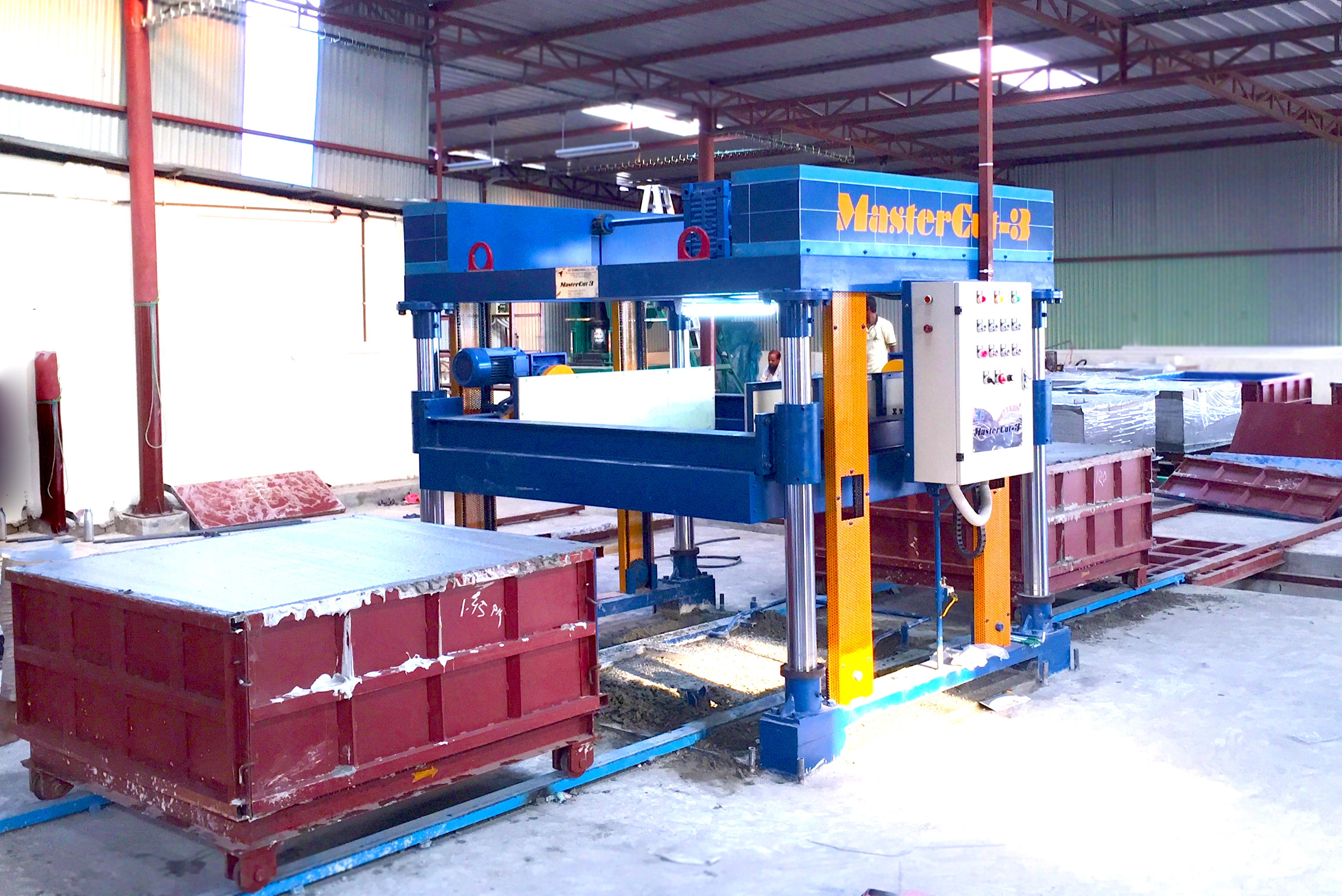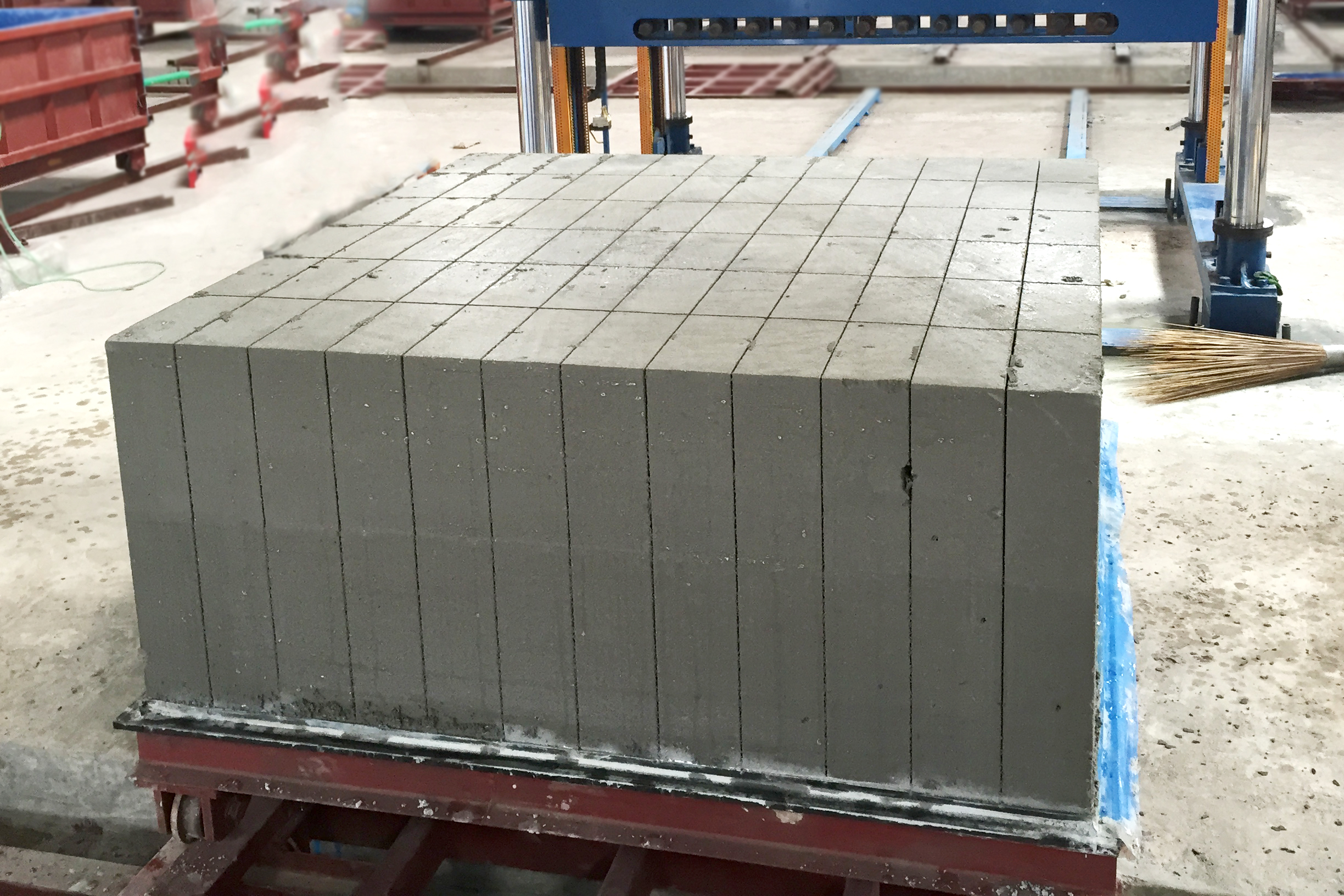 High speed
MasterCut can cut any size of bricks quickly and efficiently by utilising our patented bi-directional wire-cutting system.
In one work shift, it takes only 5 mins to cut a cake of light concrete into 72 to 96 CLC blocks (depending on the size of your block). 
And the maximum cutting capacity is 10m3 per hour, a lot higher than many other CLC cutting machines in the market today.
Cost saving
Our CLC block making machine eliminates the need for heavy battery moulds, and helps to reduce labour and production costs as well as to improve the quality of blocks.
You no longer need to remove side walls from battery moulds, the bricks produced will not have any oily residues, and the overall efficiency and cost savings of your plant will be greatly improved
High quality
MasterCut is built with high quality and durable alloy steel frame. Additionally, the machine is equipped with electric components from top quality brands such as Schneider, Omron, LG, etc., to ensure a long service lifetime.
The quality of the blocks after cutting is extremely high, consistent in size and don't cause wall cracking because there is no oily residue on the surface of the blocks.

MasterCut 3 in a small CLC block plant, capacity from 30 to 60 m3/day
The video features the MasterCut-3 lightweight brick cutter in a CLC brick production line with a capacity of 30 - 60 cubic meters per day. This plant was installed by our company in Dhaka, Bangladesh in 2014, and it is still functioning and produces thousands of bricks per day.
Technical specifications
Maximum cutting capacity  

10 m3/hr   

Electric power  

380V- 400V/50Hz/3 phases  

Size of concrete block before cutting  

1220(L) x 1210(W) x 400/500/600mm(H) (height of brick depends on the buyer's request)  

Control board  

Mounted on the side of the machine, with all control and operation buttons, emergency safety stop button, … for controlling the cutting cycle, alarm, lighting switch, etc..  

Cutting mode  

Automatic or manual depending on buyer's needs  

Size of bricks  

Standard sizes 100 x 200 x (400/500/600mm), tolerance max 1.5mm

Other sizes available on request (e.g. 150 x 200 x 600mm)  

Electric energy consumption  

Max 3.5kW  

Weight  

About 1200Kgs  

Cutting wires  

Abrasion resistant steel wires, easy to find in every market  

Electrical power consumption  

Max 3.5kW  

Dimensions  

Approx. 2193H x 1910W x 2200L (mm)  

*Patent registration No :3759/QD-SHTT dated 7th April 2012
MasterCut-3 Is Now Part of Many CLC Block Plants Around the World
With over 10 years of experiences in the lightweight foam concrete field, we have exported many MasterCut machines to India, EU, Sound Afirica, Malaysia, Thai Lan, Myanmar, South America, ... Our MasterCut CLC block cutting machines are now working at full capacity within many plants around the world and produce thousands of CLC blocks every day. 
MasterCut 3 in the light concrete production line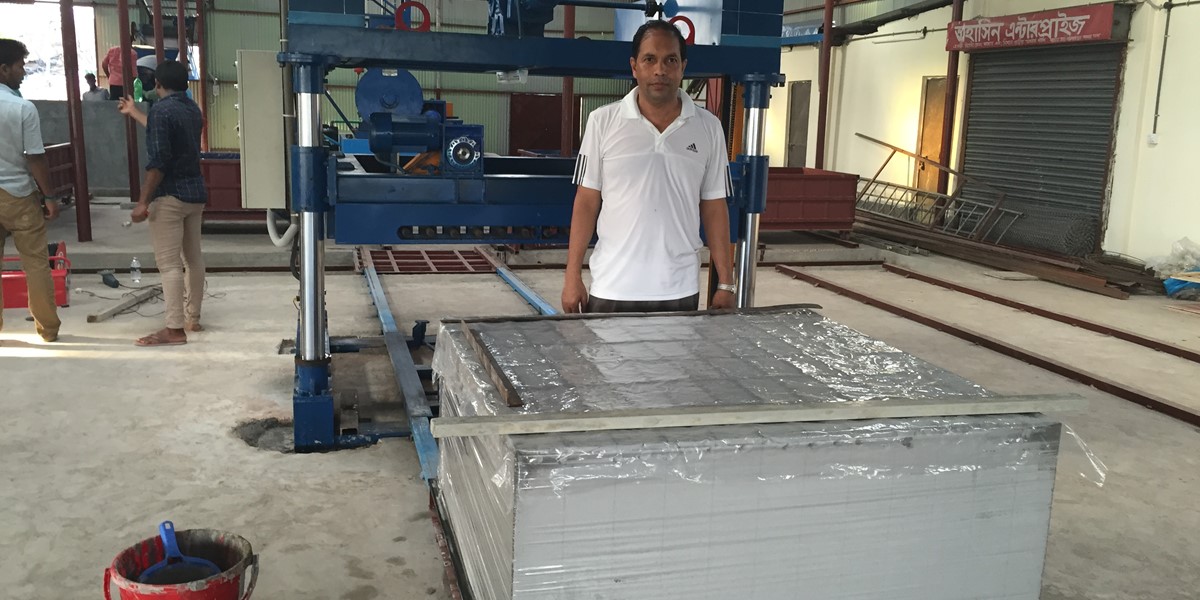 CLC Block making machine - MasterCut 3 in a CLC block factory in India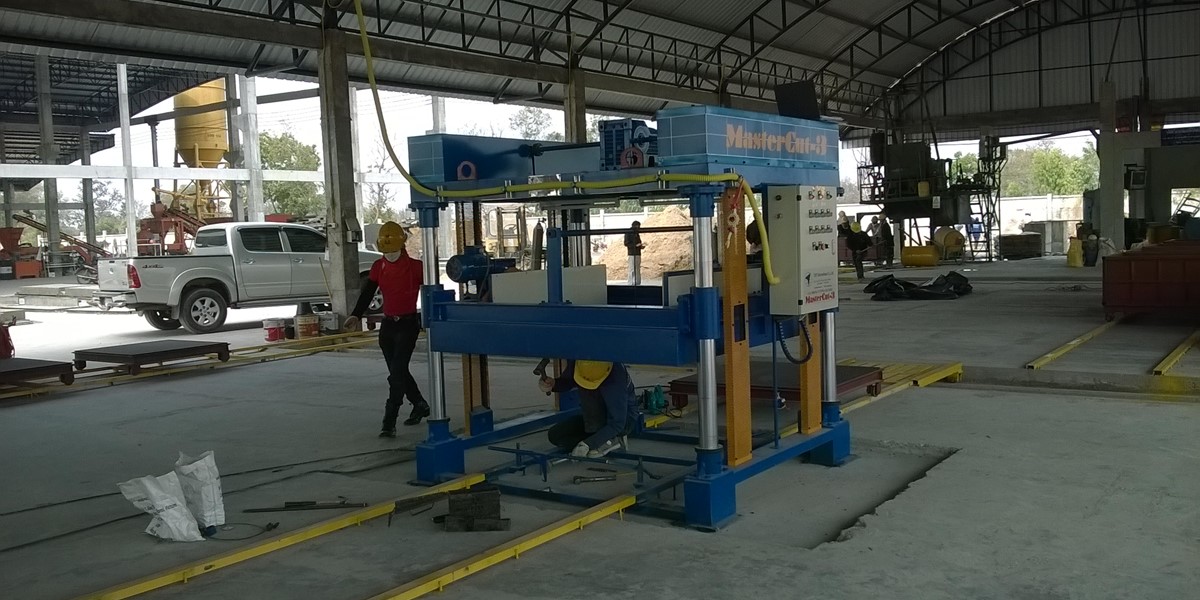 Setting up MasterCut 3 in Malaysia factory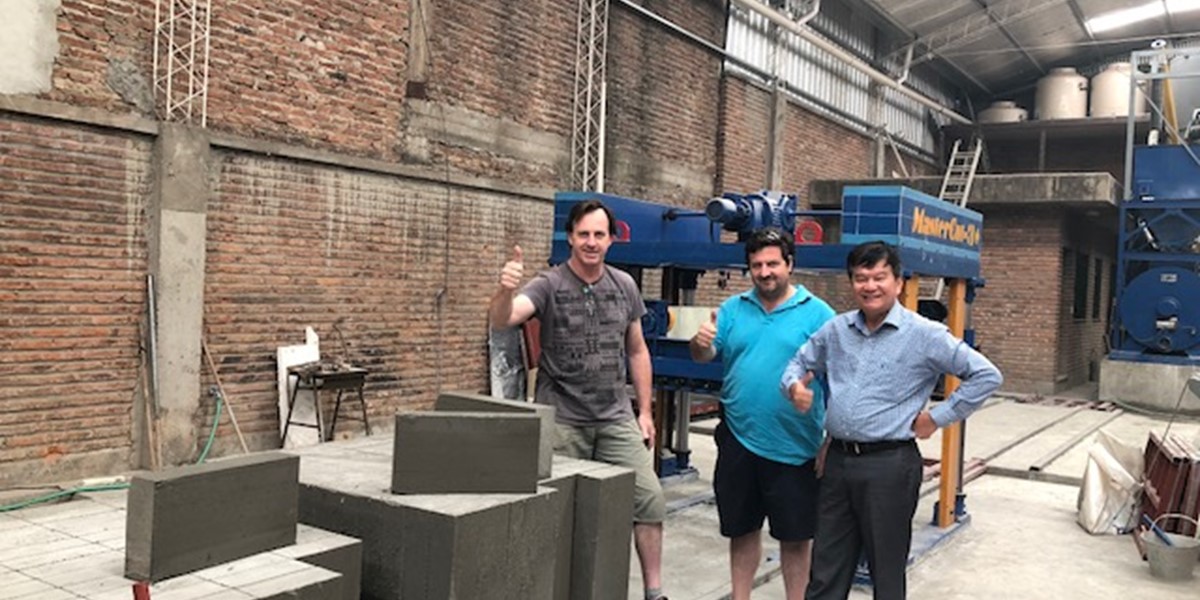 Successful test run of a MasterCut 3 for a production line in Argentina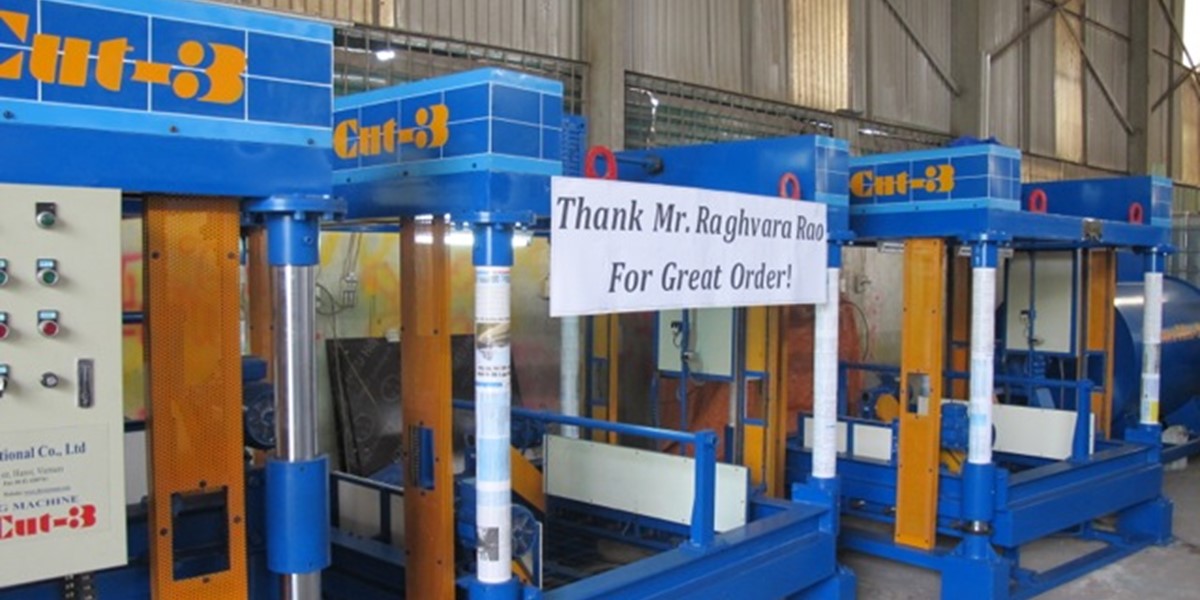 MasterCut 3 being exported to Bangladesh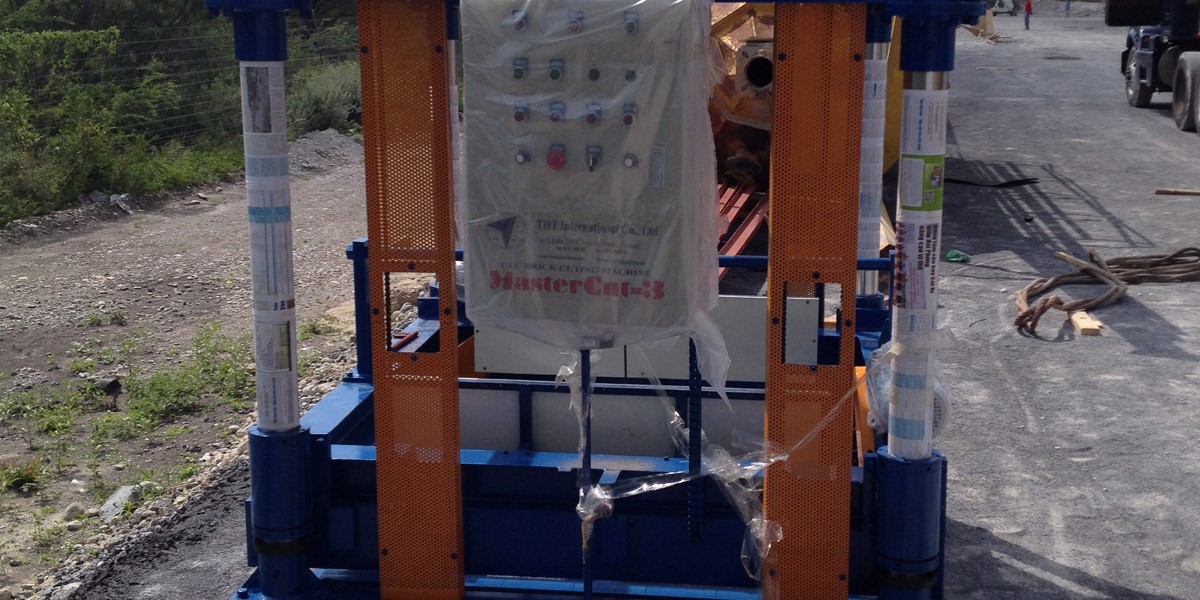 The first MasterCut 3 in Mexico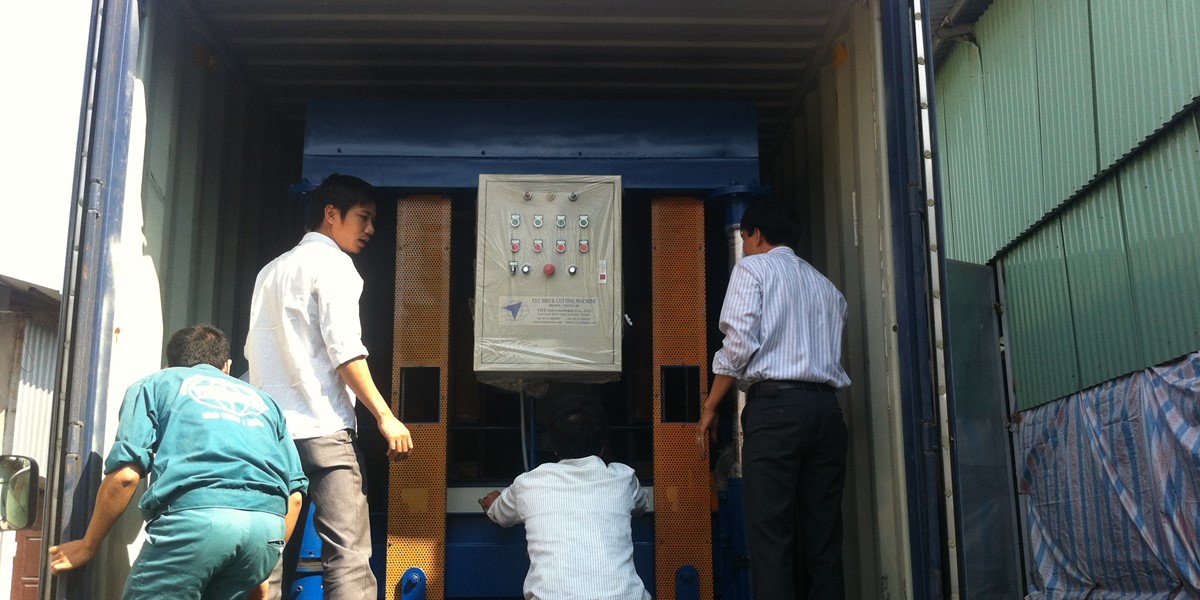 MasterCut 3 in a container for exporting
CLC wire cutting machine operates in plant 
Our MasterCut 3 is designed to be part of a complete CLC block manufacturing plant.
The plant is designed for the production of CLC blocks from cement/fly ash, sand, water and concrete foam. The manufacturer may add the concrete additives to strengthen the concrete blocks if they wish.
Production capacity: 20m3 to 300m3/day (capacity can be extended by increasing the number of moulds, adding automatic weighing system and adding more CLC block making machines).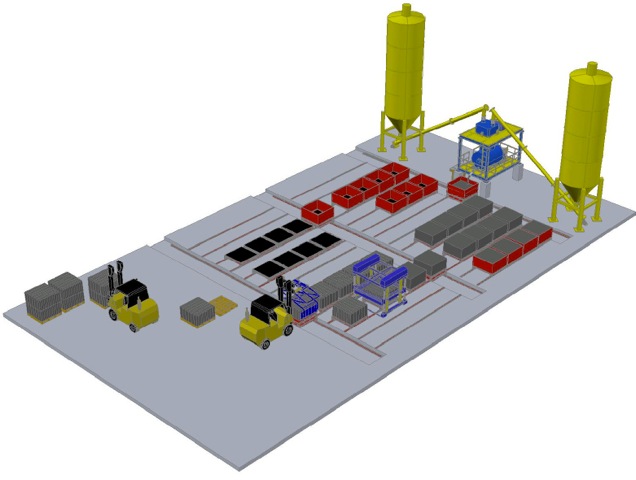 Other relevant CLC block making machines
We have also supplied many kinds of CLC block making machines since 1996.
Cellular Lightweight Concrete Technology
We are one of the leading manufacturers of CLC foam concrete equipments, and have exported to many countries around the world. We can supply machines as part of a production line, or complete turn-key manufacturing plants.
Lightweight Concrete Equipments